GOLD
Executive Health Check-up
Complete Haemogram :
Haemoglobin, HCT, MCV, MCH, MCHC, Total WBC Count, Differential Count, Platelet Count, ESR, Blood Grouping & RH Typing
Biochemistry :
FBS, PPBS, HbA1C
Liver Function Test :
Total Bilirubin, Direct Bilirubin, SGOT, SGPT, Alkaline Phosphatase, Total Protein, Albumin, Globulin, A/G Ratio, GGT
Thyroid Function Test : TSH
Urine Routine, ECG, CxR, Biothesiometry, PFT, USG Abdomen
Lipid Profile
Total Cholesterol, Triglycerides, HDL, LDL, VLDL
Renal Function Test :
Urea, Creatinine, Uric Acid
2 D Echo or TMT
Consultations
Physician, Cardiologist, Surgeon for Men, Gyneacologist for Women, Dietician
Complimentary Breakfast

BLUE–SAPPHIRE
Diabetic Check-up
Complete Haemogram :
Haemoglobin, HCT, MCV, MCH, MCHC, Total WBC Count, Differential Count
Biochemistry :
FBS, PPBS, HbA1C
Liver Function Test :
SGOT, SGPT, Alkaline Phosphatase
Renal Function Test :
Urea, Creatinine
Electrolytes :
Na+, K+, Calcium
Urine Routine +
Urine Microalbumin
Lipid Profile : Total Cholesterol, Triglycerides, HDL, LDL
Thyroid Function Test - TSH
ECG, CxR
Biothesiometry
Consultations : Diabetologist,
Ophthalmologist, Dietician
Complimentary Breakfast
SILVER
Basic Health Check-up
Complete Haemogram :
Haemoglobin, HCT, MCV, MCH, MCHC, Total WBC Count, Differential Count, Platelet Count, ESR, Blood Grouping & RH Typing
Biochemistry :
FBS, PPBS
Liver Function Test :
Total Bilirubin, Direct Bilirubin, SGPT
Thyroid Function Test :
TSH
Renal Function Test :
Urea, Creatinine
Urine Routine, ECG, CxR,
Lipid Profile
Total Cholesterol, Triglycerides, HDL, LDL
Consultation
Physician
Complimentary Breakfast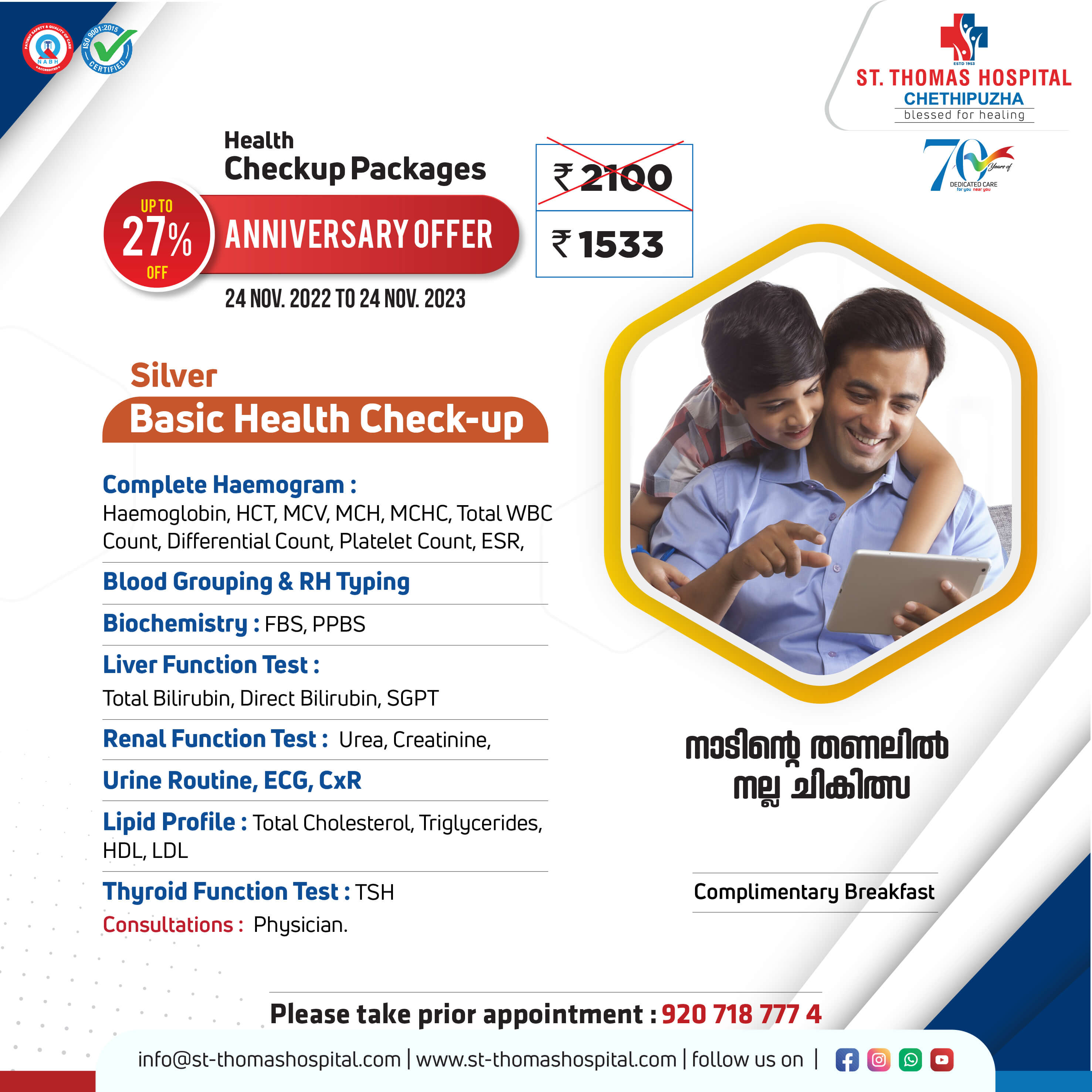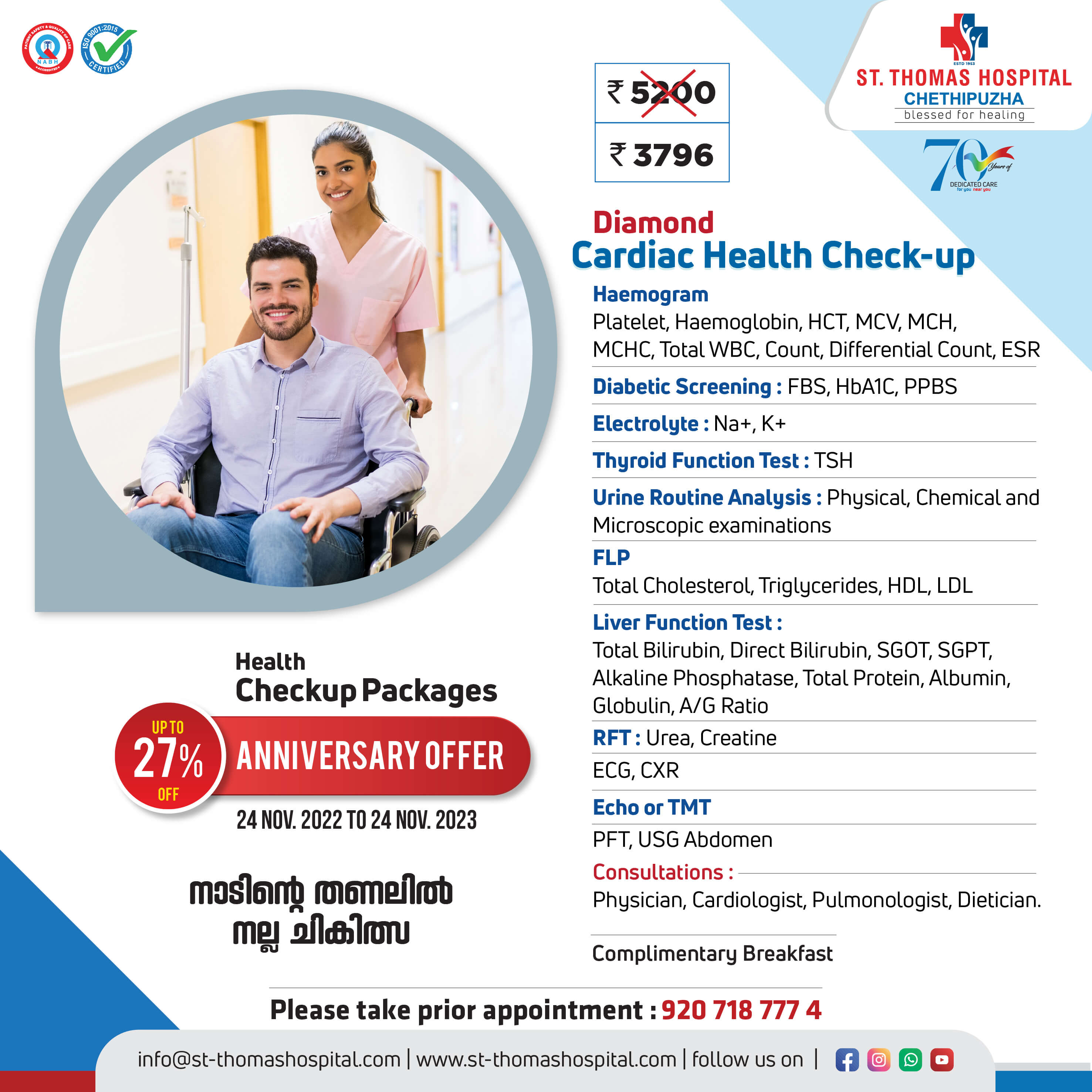 EMERALD
Thyroid Check up
Haemogram
Haemoglobin, HCT, MCV, MCH, MCHC, Total WBC Count, Differential Count, ESR Platelet Count
Biochemistry : FBS, PPBS
Thyroid Function Test : T3, T4, TSH, Anti TPO
Liver Function Test
Alkalinephosphatase, SGOT, SGPT
Calcium, Vitamin D3,
Ultrasound Neck
Consultations
Physician, Endocrinologist (SOS)
Complimentary Breakfast
PEARL
Child Health Check-up
Haemogram
Hb, MCH, MCV, MCHC, Total WBC Count, Differential Count, ESR, Platelet Count
Biochemistry : FBS, PPBS
Mantoux Test
X-ray (Chest)
TSH
Urine R/E, Stool R/E
Consultations : Peadiatrician
Complimentary Breakfast
PLATINUM
Senior Citizen Package
for male / female
Haemogram
Haemoglobin, HCT, MCV, MCH, MCHC,
Total WBC Count, Differential Count, ESR
Platelet Count : FBS, HbA1C, PPBS
Electrolyte : Na+, K+
RFT
Urea, Creatine
PSA For Men
USG Breast and Pap Smear for Women
FLP
Total Cholesterol, Triglycerides, HDL, LDL
HBsAg, Urine Routine, ECG, CxR, USG Abdomen
Consultations
Physician, Orthopedician
Gyneacologist for Women
Surgeon for men
Complimentary Breakfast
RUBY
Well Women Check-up
Blood Routine
Hb, TC, DC, ESR
Biochemistry
FBS, PPBS, HbA1C
FLP
Total Cholesterol, Triglycerides, HDL Cholesterol,
LDL Cholesterol
Urine Routine, Ca 125
TFT
T3, T4, TSH
Pap Smear
USG Abdomen, USG Breast, ECG, CxR
Consultations
Physician, Gyneacologist, Dietician.
Complimentary Breakfast
PERIDOT
Post Covid Health Package
Basic Package : ` 3900 ` 2847
CBC, ESR, Sodium, CRP, BLOOD UREA,
CREATININE, POTASSIUM, SGPT, SGOT, S-AIBUMIN, FERRITIN, FBS, PPBS,
Lipid Profile, D-DIMER, URINE ROUTINE
ECG, CHEST X-RAY, PFT
Consultations
Physician, Pulmonologist
Complimentary Breakfast
Premium Package : ` 5900 ` 4307
CBC, ESR, Sodium, CRP, BLOOD UREA,
CREATININE, POTASSIUM, FERRITIN, LFT, PTINR,
FBS, PPBS, HBA1C, LIPID PROFILE, D-Dimer, URINE ROUTINE
ECG, CHEST X-RAY, PFT
TMT OR ECHO (As Per Consultant)
Consultations
Physician, Pulmonologist, Cardiologist.
Complimentary Breakfast
GREETINGS
Pre-marital check up-
male / female
Haemogram
Hb, MCH, MCV, MCHC, Total WBC Count,
Differential Count, ESR, Platelet Count
Biochemistry
FBS, PPBS
Thyroid Function Test
T3, T4, TSH
Blood grouping & RH typing
HbA1C, VDRL
HIV
HBsAg
Urine R/E
Semen Analysis for Male
USG Abdomen for Female
Consultations
Physician, Dermatologist
Gyneacologist for women
Complimentary Breakfast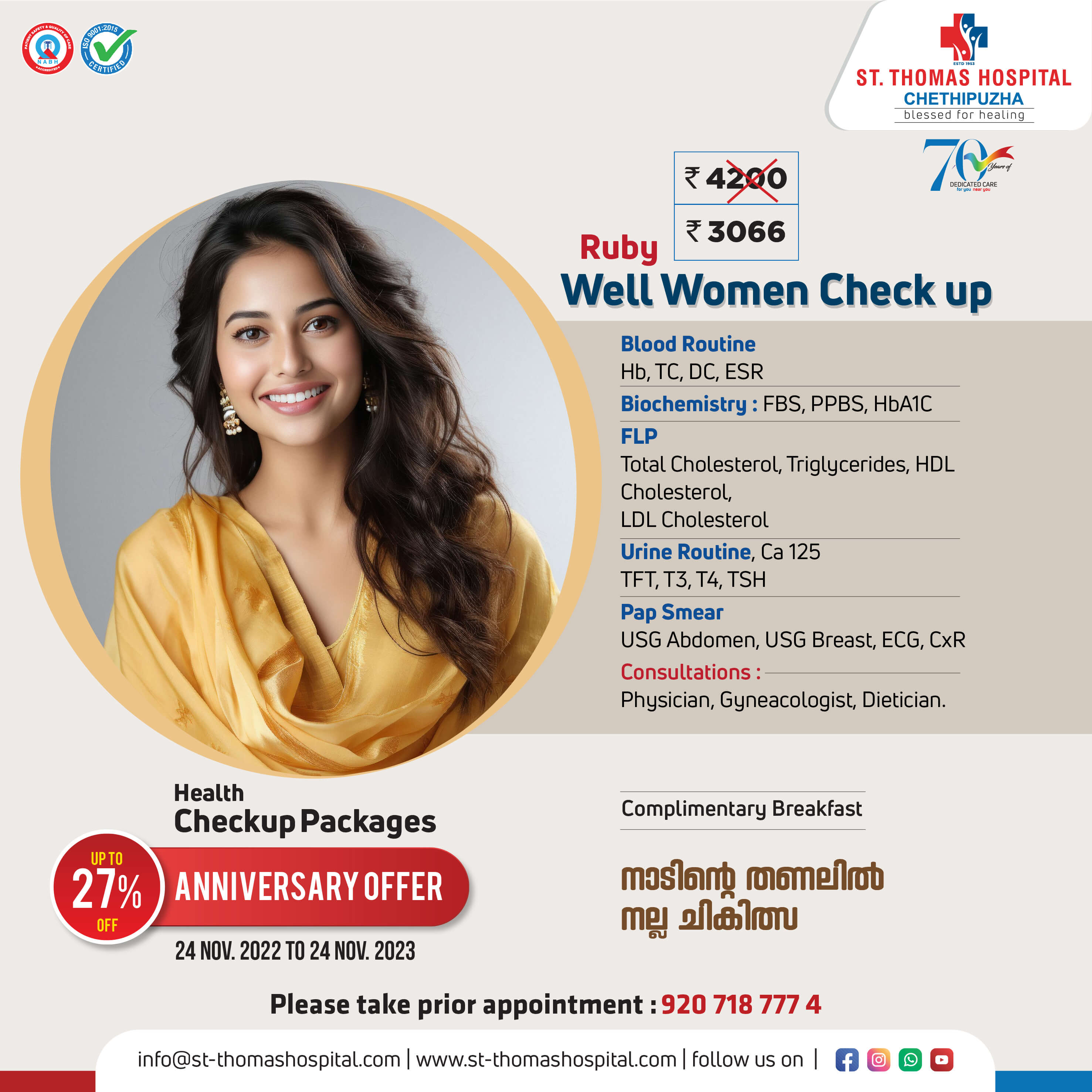 OPAL
Hepatic Package 
Complete Haemogram
Haemoglobin, HCT, MCV, MCH, MCHC, Total WBC count, Differential count, ESR, platelet count
Blood grouping, & RH Typing
Liver Function Test
Total bilirubin, direct bilirubin, SGOT, SGPT, Alkaline Phosphatase, Total Protein, Albumin, Globulin, A/G Ratio, GGT
Serology
HBsAG (Elisa), ANTI HCV (Elisa),
PT, INR, NA+, K+, S. Creatine
USG Abdomen
Consultations
Hepatology, Dietician
Complimentary Breakfast
Important Information for the Check-up
Please take prior appointment
9207187774, 0481 2722100, 0481 2729000
e-mail: info@st-thomashospital.com
Report at the OP Reception by 8.30 am on an empty stomach. Fasting required for 10-12 hours. Drink plenty of water and refrain from going to toilet after 5.30 am. Wear loose clothing and easily removable foot wear, avoid jewellery.
Bring all the previous medical records and prescriptions, regular medicines and medical accessories like glasses and hearing aids etc.
Time taken for the check up range between 7-8 hours.
If you want any additional investigation or consultation, please inform health check up department in advance so that we can schedule your appointment for the same.(Charges Apply)
If you are diabetic, avoid taking your insulin injection and anti-diabetic tablets on the morning of the health check up. Please carry your insulin / anti diabetic tablets which you can have before or after your breakfast in the clinic. Please carry regular medication along.
Opinion and advise will be given by the consultant on the basis of the test reports in the package.
Any further test or consultation not part of this package will be charged extra. The time taken for availability of reports in such instances will depend on the nature of the tests.